Drive Mad
What is Drive Mad?
Drive Mad is a driving game in 3D that is mobile-friendly, so you can play it on a PC, phone, or tablet. However, it's not just a driving game. It's also a puzzle and skill game, because to drive correctly you'll need to use your brain and your abilities, even if the title says you should do it madly. There's no doubt you're going to crash if you do it like that!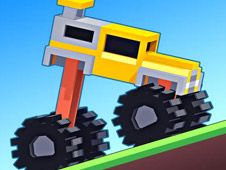 Play Drive Mad Now!
This game is set in a blocky world, with trucks that look like toy trucks, especially when you crash and they blow up. The trucks can be different sizes and shapes depending on the level.
Every level has a new task, like jumping over water, hitting brick walls, or using bridges to cross safely. You can tap or click and hold on the right to accelerate forward and on the left to go backward.
Getting through tricky spots sometimes means balancing the truck forward and backward, so figure out the best way to drive, and if you fail once, don't make the same mistake twice. Good luck, and enjoy!